1. Happy Tuesday! I hope everyone is having a better day than I am…by about 9 this morning I wanted to go back to bed, ha! While I'm working I keep finding myself just staring at the computer. Maybe it will do some work on it's own. 😉
2. I'm working on our taxes today too, for my yearly meeting with my CPA tomorrow, so I am pretty sure that has something to do with it. 😉 I can't wait to be done! We itemize ev.er.y.thing. and every year I say I'm going to be more organized and prepared, and every year it's another cringe worthy February.
3. My husband's cousin's are the new representatives for Forte International Exchange, and are currently looking for host families or couples in Spokane to host foreign exchange students! Please leave me a comment or use the contact form on my blog if you are interested so I can get you in touch with Alicia or Tiffany. They would love to answer any questions, and would love to have it passed along to anyone you know who would be interested.
4. This morning Landon came walking out of his room, and told he was sad because he hadn't "had in stories last night". After him filling in some details for me, I figured out what he calls "stories" are dreams, and he hasn't dreamed in a few nights. I laughed and told him what they were. He said he thought it was neat someone told him stories while he sleeps. 😉
5. After my post about the photo books I received some coupon codes with a few different companies, offering their services. I ended up going with Walgreen's, because tomorrow (one day only!) there photo books will be 50% off! I found their book editor very easy to use (verrrry similar to Snapfish's) and you can't beat 50% off!
6. Does anyone like Gotye? His song, "Somebody That I Used to Know" is sooo stuck in my head. (thanks Austin!) I like it, but I'm still debating what I think about the rest of his album. His music is a little different than my usual taste. Ok, alot different.
7. Every time I need a break from tax work, I do some editing from Cole's session. You can see the full post HERE if you missed it, but this next one just cracks me up. Total mischievous, adorable one-year-old!
8.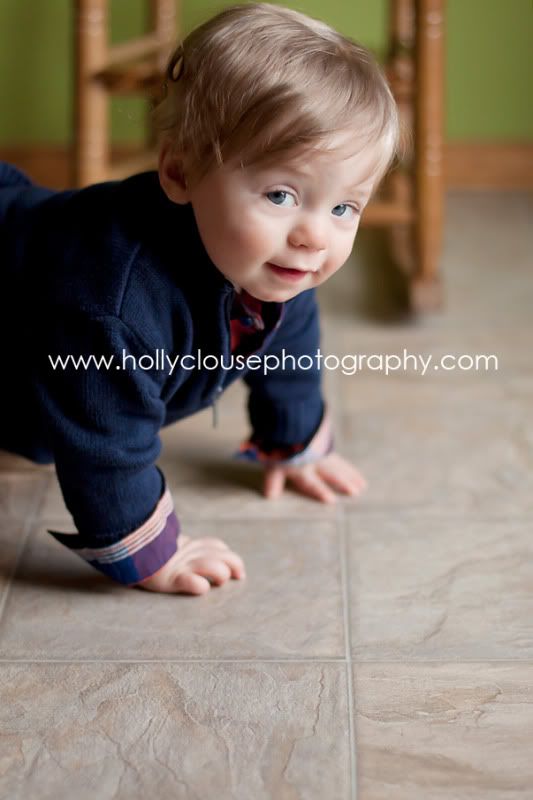 9. Additonally, I have two session dates left open in March. If you want in, please contact me soon! I am more than happy to send pricing details, and information. Also, don't forget-if you refer a friend, you get $50 off a future print or digital order, so spread the word!
10. And I'm back to tax work. Have a wonderful week!