1. Did everyone have a lovely Mother's Day? We had fun with my in-laws, and had the pleasure of spending the day with my mom last Friday. SO very grateful for both of those women in our lives, along with our grandma's!
2. The weather has been SO pretty…Sunday was more cloudy, but surprisingly warm, and yesterday was beautiful. I got tons of yard work and flowers planted, which always makes for a happy Holly. 🙂 I'm so happy to see lovely temperatures this next week as well!
3. Skype is so wonderful. I love that the kiddos get to "see" Nathan every evening before bed. They love taking to him, and Landon excitedly is always asking when he gets to talk to daddy next. Such a blessing.
4. My bestie was over yesterday, and captured happiness for me. Love, love, love. Thanks a million times over Rach. 🙂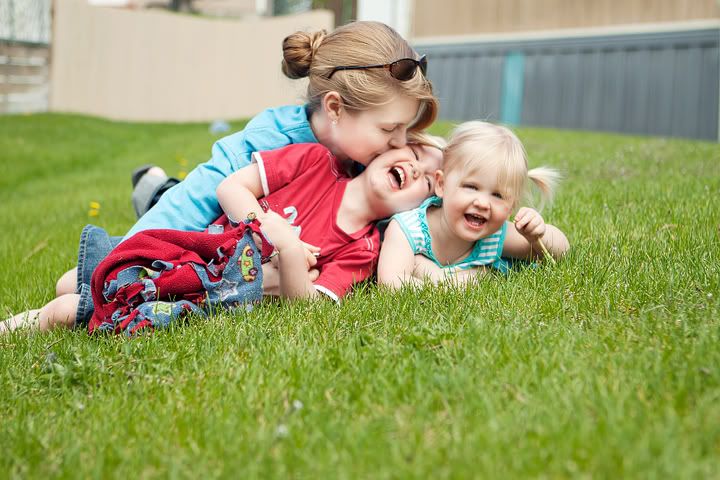 5. So excited for a wedding I am shooting the beginning of June! It's coming up really quickly, and I can't wait. 🙂
6. If you don't read my Frame a Day blog, Emmalia dropped a knife on my foot last week. *whine* I thought I should go get stitches, but I stuck it out (the lazy thing to do 😉 ) and it finally stopped bleeding. I think Emma felt bad, I  really do.
Also, that was a bad time to run out of band aids.
7. Emmalia's going to be 2 on Thursday! Time flies. And Landon will be 4 in 2 months. I can't believe how big our kids our, and how much of a little girl Emma is now. My little baby is all gone. 🙁
8. Mama's getting baby fever. 😉
9. My brother and I went garage saleing (is that a word? ) on Saturday, and spent a few hours together, which was so much fun. I found quite a few little things that were fantastic, but my find of the day was what a client of my brother's company found and gave to him, THIS little jem.  Yes, hello, I am obsessed.  It's a calender, expense tracker, note keeper, chore reminder piece of heaven. Ah. My organized self loves it. My busy self loves the calender most of all. And my cheap self loved paying only $15. 🙂
10. Have a wonderful, sunny, happy week!