1. Monday was not nice to me. Tuesday is turning out *much* better so far. For this we do a happy dance. 😉
2. That homemade Pumpkin Spice Latte I linked to last week? I made it, and I have never said before that a coffee drink was nasty, but…uh, yeah, that wasn't working for me. I think it was the pumpkin spice in it that made it gritty? And there wasn't much pumpkin flavor…and basically after trying 3 sips, I dumped it down the drain and grabbed the remaining shots of espresso and drank it straight.
3. I mean, I uh…got alot of sleep last night? 😉 Moving on…
4. To make up for it, I'm trying this soon, Pumpkin Spice Syrup, which will hopefully make up for the lack of pumpkin taste, and grittiness. Moving on from my coffee drinking habits..
5. We went to the fair this morning with friends, and the kids were so excited. They wanted to see the animals (Landon) and they wanted to eat (Emmalia). This comes as no surprise to those who know them best. 😉 It was alot of fun, not as hot as it could've been, and we (of course) got a bunch of pictures. Love this one!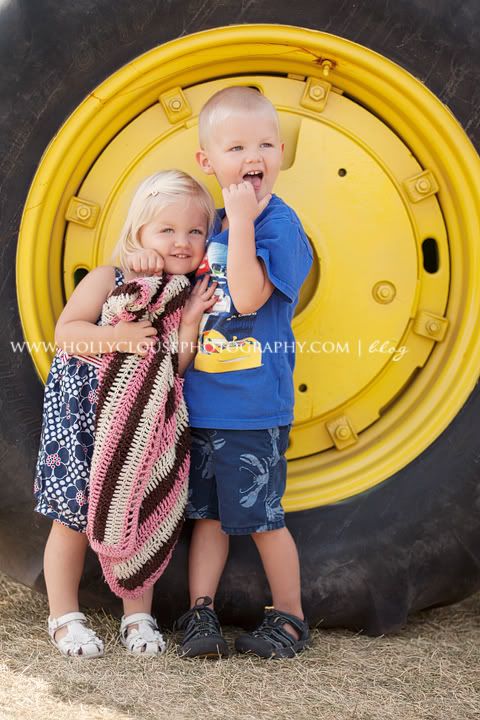 6. Thanks so much to all of you who have contacted me lately about sessions etc., it's been such a pleasure to talk to you all and meet so many new clients! Can't wait to get some more fall colors out, you will be seeing lots of fall sessions on the blog!
7. Also, thank you to the photographer's who have been contacting me lately! I'm not sure how, but suddenly I've had quite a few of you call or email to chat and get together, and I really appreciate it.  It is such a pleasure to meet you all, and part of why I love my job so very much.
8. As we come towards fall and Thanksgiving, Landon and I have been talking about how we can be grateful to other's for things they do, and one of the ways we're doing that is sending letters to some of our troops overseas. I found 2 sites that I am in the process of talking with on how exactly they go about things, if the kids are able to send drawings etc., but if you know of a group that heads up something like that, will you please let me know?
9. A shot of what Emma's been up to this week. The girl likes to color, and it is ev.ery.where. She colored red pen on my couches, she colored on the walls, she colored on her brother, she colored on the shower curtain…it goes on. I hid Landon's school markers, but she found them (obviously) and when I was on the phone with a client she had a little fun.It's actually rather funny if you're not the one having to clean her up. 😛
10. Have a happy Tuesday!