1. I have SO many pictures to blog. We had a fantastic camping trip (ok, it rained alot, but family/friends, good food, fireworks. Can you go wrong? 😉 ) Landon had a lovely birthday WEEK (yeah, spoiled! 😉 ) and the various other summer pictures from the kiddos playing outside since we are finally getting summer…ah, let's just say I have lots!
2. With my in-laws yesterday, we drew names for Christmas! To my (slightly obsessively) organized self, drawing this early is like…heavenly. 😉 Target (and other stores) are having amazing clearance right now, so I will also admit to having bought two stocking stuffers and a present already.  BUT, before you roll your eyes and complain about the craziness, I have 20+ birthday's etc. every year. Many months that have birthday's in them are 4-7 birthday's in one month counting close friends. Yeah, not so crazy after all. 😉 This does lead me to say however, that it is NOT to early to start thinking about Christmas pictures! Wouldn't it be awesome to book your session early, have your pictures in your hand early, and not be racing around doing that while trying to Christmas shop?! Contact me if you are interested in getting your family session booked!!!!
3. The session from my contest winner a few weeks back is this week, and I am super excited for their family pictures! Can't wait to show sneak peeks. 😉
4. Emma is…um….insane. She is a climbing monkey. I have never ever seen a kid climb so much. She has NO.FEAR. None. I just know our first emergency room visit is coming up with her, because, well, she's alot different than Landon. Landon is so laid back, mainly calm (of course he has his toddler boy "scream-my-head-off" moments), but mainly life is pretty calm with him. Emmalia already runs, she yells, she climbs up and stands on the top of the back of the couches…she climbs on the entertainment center, she gets up on our dining room table… *SIGH* I think I need pictures, because, until you've seen a petite little 22lb baby girl toddling around yelling and dancing on the desk she's amazingly climbed on to, it just doesn't sound real. She has ninja baby skills. Or something. I think it's a combo of all the energy from the Haynes and Clouse sides. Whew. 🙂
5. I'm off to pick up the house! We had a long, busy, fun weekend, and the house suffered. 😉 Have a fabulous Monday, and enjoy the pictures! 😉
Showing off her teeth 🙂
The cousins, camping! They're exactly 2 months apart, and ridiculously cute, silly and entirely too much like brothers. 😉
The birthday boy! He is into all things Cars and Lightning McQueen right now, so his birthday was full of presents of that sort, including a new shirt from Grandma! 😉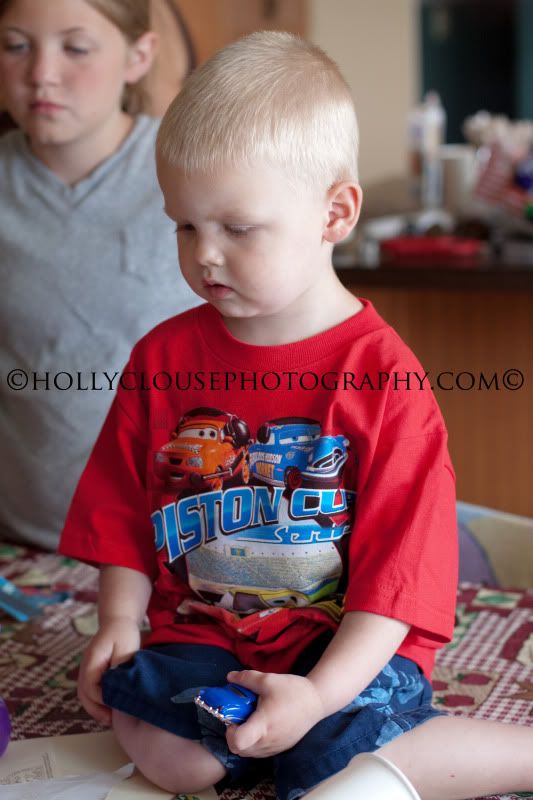 And, a picture of mommy and Emma. Nathan took this for me, and though he says he is a horrific photographer, he did a pretty darn good job! 😉 I've been trying to get in front of the camera more, even though I HATE having my picture taken. I will say, however, that the 10 pictures you do not see of Emma trying to get away weren't so lovely. Moving on.