About a year ago, I found this recipe in a Taste of Home magazine and, if it is possible to fall in love with a recipe, we did. *head over heels* This stuff is GOOD. "Philly Cheesesteak Pizza", aka "Nathan's favorite", aka "Some Monday night happiness to get the week started off right." YUM. And I'm gonna show you how to make it. 😉
SO, first (and the recipe is at the bottom of this, typed out together, in case you feel like shooting me because you just want to get to the recipe already. Ahem) you need to slice 1 small red pepper (I do rings), 1 small 0nion (again, rings), 1 3/4C mushrooms sliced. Then throw them in a pan and saute them in 1 1/2tsp oil, like this:
then, when they're tender add 4 garlic cloves, minced. (you don't need a picture of that, right? 'Cause I didn't take one.)
Meanwhile, you're going to want to either A.) Make/Bake a pizza crust (I'll include my recipe below) or B.) use a store-bought one. (which is not as good as my recipe but probably alot easier.)
After it's cooked, put 1/2 C pizza sauce and 2oz cubed cream cheese on the crust, like so:
And then sprinkle with 1C Provolone, like so:
Top with your pepper mixture (which should be done by now):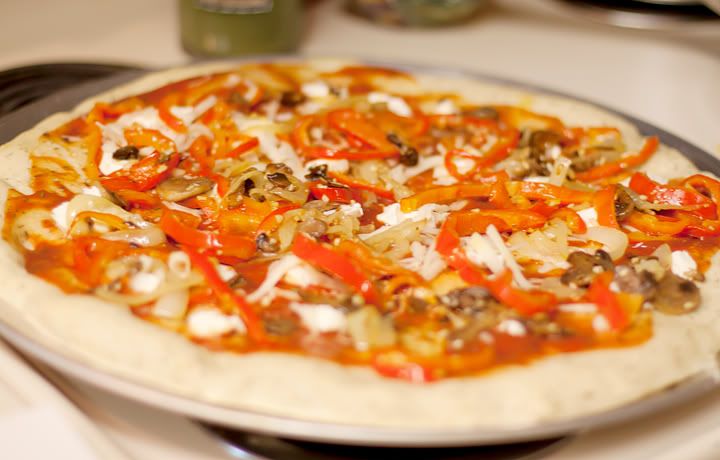 1C sliced Roast Beef:
1/3C pickled pepper rings (which you should be able to find by croutons/olives etc., and which are not pictured because I forgot them. Shame.)
Next add 1/4C grated Parmesan Cheese, and 1/2 tsp dried Oregano:
YUM.
Now, cook. At 450, for 10-12 minutes.
And there you have it. Heaven on a plate. Enjoy, and eat an extra slice for me. 😉
Philly CheeseSteak Pizza
1 small red pepper, sliced in rings
1 small onion, sliced
1 3/4C mushrooms sliced
1 1/2tsp oil
4 garlic cloves, minced
1 Prebaked pizza shell
1/2C pizza sauce
2oz cream cheese, cubed
2C shredded provolone
1C roast beef, sliced
1/3C pickled pepper rings
1/4C grated Parmesan
1/2tsp dried Oregano
Saute peppers, mushrooms and onion in oil until tender. Add garlic, saute 1 minute more.
Spread pizza sauce over pizza shell, dot with cream cheese. Sprinkle with 1C Provolone. Top with pepper mixture, beef, peppers and remaining cheese. Sprinkle with Parmesan and Oregano.
Bake at 450 for 10-12 minutes. ENJOY! (and bring me a piece 😉 )